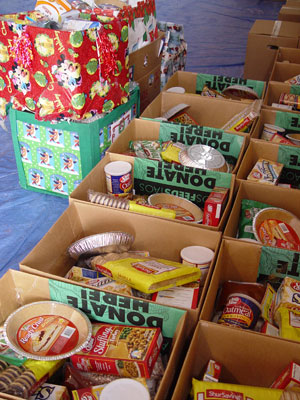 36 YEARS OF FEEDING TAOS FAMILIES
Our Taos community is rich in beauty, natural resources, art and culture. For this we give thanks as the holiday season approaches. But many among us - especially this year - are struggling to keep their families together, warm, and well-fed. We urge Taos individuals, families and businesses who are able to offer a helping hand, to join us in helping those in need.
ATTENTION TAOS FEEDS TAOS RECIPIENTS
SuperSave vouchers will be valid starting this Thursday, December 16, 2021.
NO EARLIER! Thank you for your cooperation!
APPLICATION AND DISTRIBUTION PROCESS FOR 2021
Taos Feeds Taos is a non-profit corporation that has distributed tens of thousands of food baskets to needy Taos County families every holiday season since 1986.
In order to serve the community in a safe manner, TAOS FEEDS TAOS will be handling the program a bit differently this year.
Thank you for your understanding and cooperation!
TYPICAL YEARS

Application taken in person
Food boxes were provided
Boxes were picked up
Community donated food




→
→
→
→


THIS YEAR

Application info will be taken by PHONE
A GROCERY VOUCHER to Super Save will be provided
Grocery Vouchers will be MAILED
Consider a FINANCIAL donation



Taos Feed Taos would like to thank the management and staff of
SuperSave
for their support.