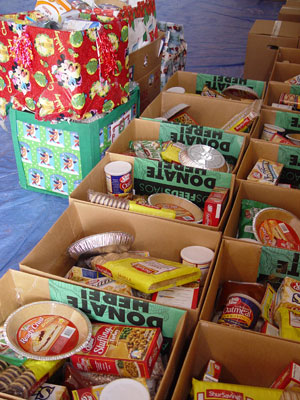 Taos Feeds Taos - Over 30 years of Feeding Taos Families
Our Taos County is rich in beauty, natural resources, art and culture. For this we give thanks as the holiday season approaches. But many among us are struggling to keep their families together, warm and well-fed. We urge Taos individuals, families and businesses who have been blessed with prosperity in 2016 to join us in helping those in need.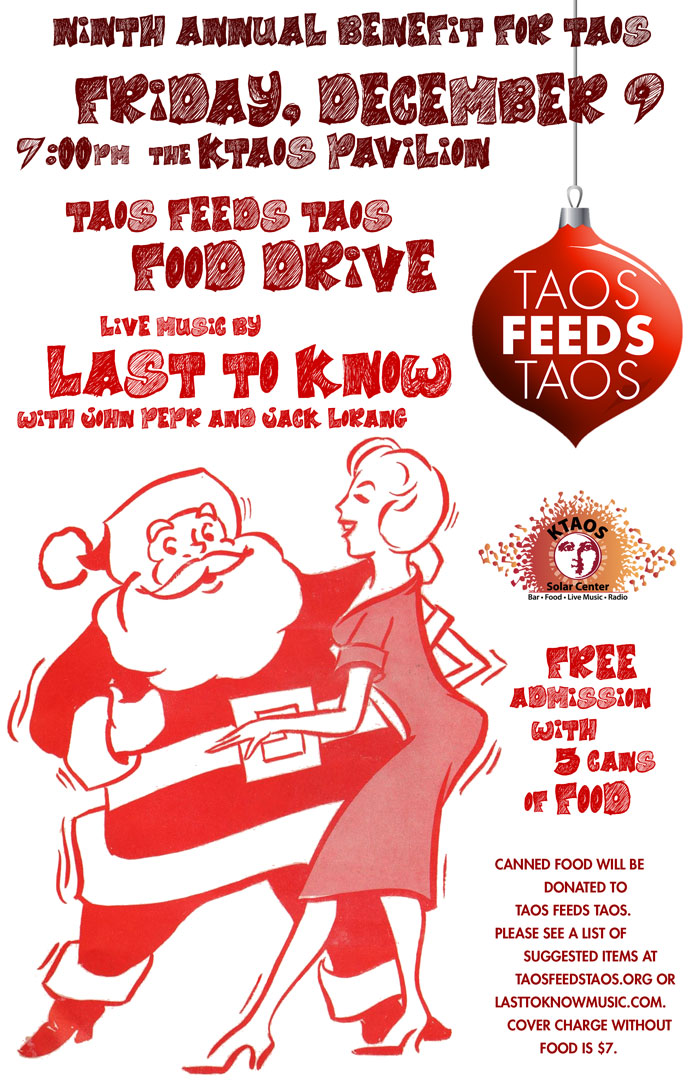 Taos Feeds Taos, a non-profit corporation in its 31st year, will distribute food baskets to over 1100 needy Taos county families during this holiday season. This is only possible with your help. We ask for donations of non-perishable foods and for cash donations to purchase hams, fruits and vegetables. We also ask for volunteers to help fill boxes. Your support is appreciated.
Our Ninth Annual Food Drive and Benefit show by local band
Last to Know
will be held at the KTAOS Solar Center on Friday, December 9th
.
Admission to the show is free with five cans of food or other non-perishable items. Click here for more information.
Basket Application/Registration will take place at four locations in Taos and surrounding areas...
Taos : National Guard Armory, 1145 State Road 570
Monday and Tuesday, November 14-15, 9:00am-4:00pm
Monday and Tuesday, November 28-29, 9:00am-4:00pm

Penasco : El Centro de Comunidad
Monday, November 28, 9:00am-4:00pm

Questa / Cerro : VFW Post 7688
Monday, November 28, 8:00am-4:00pm

Amalia / Costilla : Amalia Senior Center
Monday, November 28, 8:00am-10:00am

Requirements for application:
ID (drivers license), Proof of income (pay stub, disability income - such as VA, etc.), Last 4 digits of your Social Security Number, Proof of physical address (utility statement), Proof of mailing address (utility statement), Number of adults and children in household.