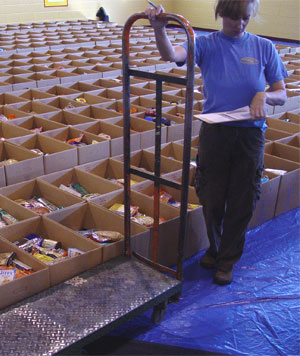 How You Can Help
Taos Feeds Taos will distribute food baskets to over 1100 needy Taos county families during this holiday season. This is only possible with your help. We ask for donations of non-perishable foods and for
cash donations
to purchase hams, fruits and vegetables. We also ask for volunteers to help fill boxes. Your support is appreciated.
Volunteer!
Strong backs are needed December 16 through 20 to help sort donated food and to fill and distribute boxes.
All activities will happen at the National Guard Armory
on the road to Country Club and UNM Klauer Campus, 1145 State Road 570 in Llano Quemado.
Choose a time to help...
Saturday, December 16
,
11:00am until we are done
Tape Boxes and set staging area, sort donated food
Sunday, December 17
,
10:00am until we are done
Sort Donated Food
Monday, December 18
,
10:00am until we are done
Sort donated food, ready staging area for grocery foods
Tuesday, December 19
,
10:00am-4:00pm or until we are done
Stage from grocers, prepare hall to fill boxes
Wednesday, December 20
,
10:00am until we are done
Fill Boxes, prepare outlying area boxes, ready for loading
Download a printer-friendly PDF of the 2017 Volunteer Schedule.
Non-Perishable Food Donations
Drop off canned and packaged foods at any Taos business displaying the
Taos Feeds Taos Donate Here
signs between Thanksgiving Day and mid-December, or at the National Guard Armory. Please check back soon for specific dates and drop-off details. Each Taos Feeds Taos box will contain these non-perishable foods:
5 lbs. Sugar
5 lbs. Flour
2 lb. Bag Rice
26 oz. Box Salt
2 lb. Bag of Dry Pinto Beans
12 oz. Spaghetti Pasta
24 oz. Canned Spaghetti Sauce
1 lb. Dry Lentils
13 oz. Ground Canned Coffee
Boxed Macaroni and Cheese
Box Saltine Crackers


Box Stove Top Stuffing
2 lb. Bag of Cookies (any flavor)
1 lb. Bag of Candy (any flavor)
12 oz. Canned Evaporated Milk (unsweetened)
18 oz. Box Dry Oatmeal
12.8 oz. Box of Dry Cereal (any flavor)
Box of Pie Crust Mix
15 oz. Can Pumpkin
15 oz. Canned Peaches
15 oz. Canned Pears


15 oz. Canned Peas
15 oz. Canned Green Beans
15 oz. Canned Corn
15 oz. Canned Yams
16 oz. Canned Cranberry Sauce
10 oz. Can Chicken Noodle Soup
10 oz. Can Tomato Soup
6 oz. Can Tuna Fish
16 oz. Jar (plastic) Peanut Butter
12 oz. Package Dry Posole
8 oz. Package Dry Red Chili


Our Tenth Annual Food Drive and Benefit
show by local band
Last to Know
will be held Friday, December 8th at the Taos Mesa Brewing Mothership. Admission to the show is free with five cans of food or other non-perishable items.
Click here for more information.
When are Boxes Distributed?
Boxes will be distributed Thursday and Friday, December 21 and 22.
Taos
, National Guard Armory,
Thursday, December 21, 9:00am-5:00pm and Friday, Dec. 22, 8:00am-noon
Questa / Cerro
, Harvest Church,
Thursday, December 21, 1:00-4:00pm
Amalia / Costilla
, RCCLA Offices,
Friday, December 22, 10:00am-noon
Penasco
, El Centro de Comunidad,
Friday, December 22, 8:00am-noon